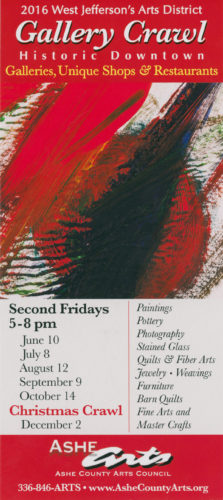 Gallery Crawls run from June until October on the Second Friday of each month.
"Crawlers" are invited to stroll the downtown streets, visit the galleries, view the downtown murals and take advantage of the downtown restaurants. Sixteen galleries will be open after hours, including CatchLight Gallery, to showcase the latest exciting artwork of talented local and regional artists. CatchLight will have many of its photographers mingling the gallery to talk about their work and tell you the stories behind the photos! Stop in, meet the photographers, nibble some finger foods, sip some wine and enjoy the beautiful photography!
Participating galleries include: Acorn Gallery, Ashe Arts Center, Ashe Custom Framing and Gallery, Backstreet Beads, Bohemia Gallery, Broomfields Gallery, Catch-Light Gallery, Everything Has a Story, Florence Thomas Art School, French's Art Galley, Originals Only Gallery, Quilt Square Girls, Ripples Gallery, RT Morgan Art Gallery, Shoemaker Studio, and The Artists' Theatre.
Gallery Crawl is a free event and is sponsored by the Ashe County Arts Council in cooperation with the West Jefferson Business Association, the West Jefferson TDA and is funded, in part, through a Grassroots Arts Program Grant of the North Carolina Arts Council.